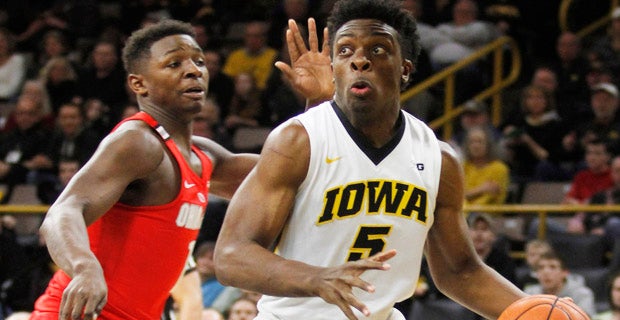 Indiana and Iowa are set for the first of two meetings in a 15 day period tonight when the Hoosiers hosts the Hawkeyes. This is a late 9:00 p.m. ET tip to be shown on ESPN with Dan Shulman and Dan Dakich on the call.
Fran McCaffery's team has been better than most expected this year. After falling in each of the team's first three Big Ten games, Iowa ran off six straight league wins to reestablish itself into the AP Top 20. While the team took a step back after that with a home loss to Michigan State and a loss at Minnesota, the Hawkeyes got a huge win last Friday, humbling league leading Michigan, 74-59.
Like many recent Iowa teams this is one that is very good offensively and somewhat questionable at the other end. Led by the frontcourt duo of Tyler Cook and Luka Garza, Iowa is tops in the league during conference games in scoring (77.6) and second in field goal percentage.
After flirting with an early NBA departure, Cook has come back with a vengeance. The 6-foot-9, 250 pounder has upped his scoring to 16.2 per game and is pulling down 8.1 rebounds per game.
In one of Indiana's most surprising wins last year, the Hoosiers overcame 28 points and 10 rebounds by Cook in a 84-82 late season win at Carver-Hawkeye.
The 6-foot-11, 245 pound Garza continues to improve, especially of late. While he's averaging 15.1 points on the season, over the last six games he's been putting up 21.2 points per game while shooting 60.6 percent from the floor. For his size he has a great touch, knocking down about one 3-pointer per game and is a stellar 84.9 percent from the charity stripe.
Garza sat out three games around year end with an ankle sprain including a loss at Purdue.
"Well, he's healthy," McCaffery said about Garza's uptick in production. "That's pretty much all it is. He was playing great before he got hurt and then when he was hurt and he wasn't playing, and then he was only playing a little bit. Now that he's healthy, he's doing what he's capable of doing."
"Iowa coming in as good as advertised," IU coach Archie Miller said yesterday. "They have a great one-two punch inside with Garza and Cook. And they also have tremendous shooting and depth, and one of the best offensive teams that we'll see all season. And mixing up their defenses and whatnot will give us some different looks. And that's our concern coming in is obviously being able to withstand their inside punch and their push and obviously take care of the basketball and continue to try to become a better offensive team."
A big key to that shooting has been the addition of four-star guard Joe Wieskamp (pronounced "Weez-camp"). A native Iowa from Muscatine, he's got great size at 6-foot-6 for a two guard and is averaging 11.4 points while shooting an impressive 42.9 percent from beyond the arc. He had 16 in the home win over Michigan and 24 points in a recent win over Illinois. Wieskamp has taken home Big Ten Freshman of the Week in two of the last three weeks.
The emergence of Wieskamp has taken some of the pressure of junior point guard Jordan Bohannon. His scoring is down over three points per game (10.3 ppg) but he's turning the ball over less than his prior two seasons. 
The other starter is veteran Isaiah Moss. The 6-foot-5, 208 pound junior could be the early choice to get the Romeo Langford assignment tonight. While his scoring is down some this year to 9.8 per game, Moss has become more dangerous from 3-point distance, making 36 already this season at a 42.9 percent clip. He's been especially hot of late, making 15 of his last 23 shots from behind the arc.
Senior Nicholas Baer leads a solid bench. The versatile 6-foot-7 forward is yet another good shooter (27 made 3-pointers) for the Indiana defense to have to check. Another key bench player it the coach's son. Connor McCaffery took a medical redshirt year last season after appearing in just four games and has had a solid first full season, seeing about 20 minutes per game. He's a 6-foot-5 guard who is second on the team in assists. He dished out eight against Illinois a couple weeks ago.
The Hawkeyes are especially good at drawing fouls, ranking No. 5 nationally in free throw to field goal attempt rate. And they usually knock them down, converting over 75 percent at the line thus far this season.
The weakness of this team remains defense. Iowa sits just No. 100 in the nation in defensive efficiency. That's actually a significant improvement over last year's Hawkeye team that was a woeful No. 242 nationally.
Wieskamp has helped fuel some of the better defense, drawing praise this week from McCaffery in that department. It will be interesting to see if he gets the Langford assignment much of the night or if that goes to Moss.
"He can slide his feet really well laterally," McCaffery said of Wieskamp. "So if he's guarding a smaller guy or a bigger guy he can hold his own because he's legitimate 6'6″ with long arms and then can slide his feet on a quick guy."
It's really the interior defense that remains a problem. As good as he is offensive, Garza isn't quick enough laterally to defend well in the post. The Hawkeyes are giving up 52.4 percent shooting on 2-point attempts this season, a mark that ranks just No. 258 in the country. That will be an area to watch tonight as the Hoosiers conversion rate on shots inside the arc has been the team's best offensive stat over the course of this season.
Look for Iowa to play some zone. It's something that worked in the win over Michigan and despite a hot shooting night last Saturday, Indiana is not known for perimeter shooting this season. 
"They have done a really nice job with that over the course of the season," Miller said. "They put their guys in a really good situation, I think at times to be big, and they play really a lot of size as well. So without question it's definitely a concern. And they're changing defense, they're extending defenses. One of the few teams in the league that will really give you that look."
Indiana got some good this week when Juwan Morgan did not miss any practice time after he went down with a shoulder injury late in the first half in Saturday's victory at Michigan State. Miller said yesterday he's good to go tonight.
The Hoosiers will be looking to build upon that surprising win that ended a seven-game skid.
"A win does a lot, especially through the month of January as we obviously didn't play very well and we didn't have a whole lot of spunk, so to speak, at the end of the month," Miller said. "A a win can do a lot for confidence, more so than anything. And I think our guys have practiced the right way coming back off of the weekend trip and we have moved on."
More on Iowa: