Fran McCaffery and his Iowa Men's Basketball team have reached the halfway point of the 2018-19 Big Ten slate. They sit at 16-5 overall and 5-5 in what is a brutal Big Ten conference this season. They have already surpassed last season's overall win total and Big Ten win total and they've done it by playing elite offense and improving on the defensive side of the ball.
Now, I don't like basing these things off of the prior season, but when you look at where many outlets had the Hawkeyes projected in their preseason polls, this Iowa team is exceeding the expectations of many. I consulted five preseason polls, 247Sports', ESPN's, Sports Illustrated's, Sporting News' and Andy Katz's. All of them had one common theme; they had the Hawkeyes picked anywhere from 9-12 in the Big Ten.
As of right now, Iowa currently sits in the 7th spot in the Big Ten with a two game cushion between them and the Ohio State Buckeyes. They were excellent in the non-conference, completing an undefeated non-con slate for the first time in over 30 years. Yes, the schedule wasn't very tough this year. In fact, it ranks 327th on KenPom.com. However, wins over Iowa State, Oregon, and Connecticut really helped Iowa early on in the season. Oregon has been without its star, Bol Bol, for a majority of the season, but he was in action when the Hawkeyes took down the Ducks.
The double-digit win over Iowa State in early December continues to be Iowa's best win. The Cyclones rank 11th in KenPom's rankings and 12th in the new NET rankings that the committee uses to help determine NCAA tournament teams. Even the win over Pittsburgh was solid as the Panthers have taken down teams like Florida State and Louisville in ACC play. Both of those teams are top-25 KenPom teams.
Another thing they've done well is they've avoided the bad loss so far this season. They've lost five ball games so far this season, but four of them have come to NET teams ranked 14th or higher, with the outlier being Minnesota who sits at 52. They've come close, nearly losing on the road to Penn State who, despite being 0-9 in the Big Ten, is still ranked 70th in KenPom's rankings. That tells you how strong this league is. But they didn't have that bad non-conference loss that we can see some teams go through every once in a while.
Then they've done a great job at racking up some solid Big Ten wins in the first half of the schedule. The double-digit wins over Nebraska and Ohio State are key victories for the Hawkeyes. Those two, combined with the Iowa State win, give Iowa three top-40 NET wins with a big chance for another one on Friday. Even winning games at Northwestern and Penn State without Tyler Cook were massive. They may not add a lot to your tournament resume, but it gave other guys like Joe Wieskamp and Ryan Kriener the confidence they needed early on in Big Ten play.
Finally, we get to the defense. Everybody knows how bad it was last year. The Hawkeyes finished 242nd in adjusted defensive efficiency, per KenPom, which was their worst mark in the KenPom era. There was no other way to slice it, they looked uninspired on the defensive side of the floor and that is what led to them giving up nearly 79 points per game over the course of the season.
This year, it's been better. They currently rank 126th in adjusted defensive efficiency, which is still a mark that needs to improve, but it is leaps and bounds better than last year's effort. The big thing I have noticed is consistency. The Hawkeyes simply are not consistent night in and night out on the defensive end of the floor. They had back-to-back games against Northwestern and Ohio State where they allowed less than 65 points. If Iowa is holding teams to that number, I'm picking them ten times out of ten. But then they'll have efforts like the last one against Minnesota where they'll allow 92 points and for most of the game it seems like they're playing with four defenders instead of five.
The first 24 minutes of Iowa's last home loss to Michigan State were incredible. They were making things tough on Nick Ward down low, they were rotating, closing out well, getting over ball screens to contest shots, you name it. Then a switch flipped. The Spartans went on to score 51 points in the second half after being held to 31 in the first stanza and they won the game by 15 points. We've seen some poor efforts for the full 40 minutes this season, but for the most part Iowa has had stretches in a lot of their games where they've looked like a top-50 defense. They just have to start being more consistent on that side of the ball.
Flip things around and the offense is about where I thought it'd be, maybe even a little better. They currently sit at #8 in KenPom's adjusted offensive efficiency rankings and that is a big reason why Iowa has won 16 games. In the latest loss, the offense was not the issue. The Golden Gophers couldn't stop Iowa if their lives depended on it, but the problem was, Iowa couldn't stop them either.
Tyler Cook has been an offensive threat ever since he stepped on campus a few years back and is really having a strong junior season. He's averaging north of 16 points and 8 rebounds per game, leading Iowa in both categories. Sometimes you have to deal with some turnovers from the talented junior, but his assist numbers are stronger than ever before. The jump-shot is still not there, but he's scored in double figures in all but three games so far this season and Iowa knows what its going to get from Cook on any given night. He's really part of one of the better front-courts in the conference and his running mate, Luka Garza, has been quite good as of late.
Garza is starting to emerge as Iowa's most consistent offensive weapon. He's been fantastic and over the last five games, averaging 20.6 points and 4.8 rebounds per game. He's shooting 62% from the floor, 38% from 3-point range, and 89% at the free throw line during that same span. He has proven to be so tough to disrupt around the rim and it seems like everything he throws up there finds its way through the net. His ability to use his body, ball fakes, and head fakes to get to his spot is unmatched on this Iowa team and when you factor in his ability to shoot the ball from outside of 15 feet, it makes him even more dangerous. I can't remember Iowa's last big-man that connected on 87% of his free throws over the course of the season. 
The front-court guys have been the strength of this team as of late and the Hawkeyes need to become more balanced as a unit. Shooting guard Isaiah Moss has showed off his scoring abilities lately, but teams have really found a way to bottle up PG Jordan Bohannon.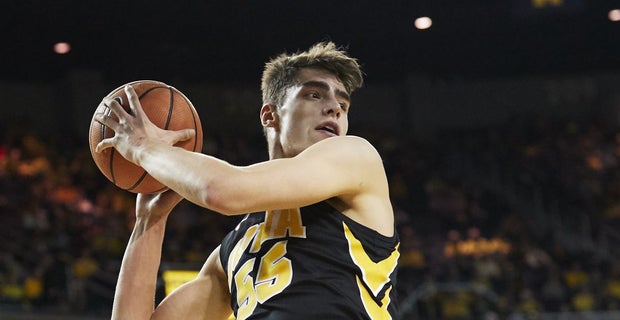 It has become apparent throughout the season that teams are really focusing on not letting Bohannon be the Hawkeye that beats them. His points are down, assists are down, and his 3-point field goal percentage is down. I think a big reason the percentage is down is because teams are trying to push him off his spots and they are getting up into him. He still wants to play to his strengths and shoot the outside shot, but he's now being forced to hoist 23-footers all night long and his efficiency is suffering because of it. He found success against Penn State, but didn't even get a 3-pointer off against Minnesota, which is something that can't happen. Moving forward, you'd like to see Iowa maybe run some stuff early for Jordan as he tries to get that 3-point look back.
"Guys are getting up into their space," McCaffery said of Bohannon and Wieskamp's tough shooting night against Minnesota. "We've got to do a better job screening. We really did a good job throwing the ball inside, but we've got to do a better job of mixing that and getting [Bohannon and Wieskamp] open. We need them to take and make shots."
The aforementioned Joe Wieskamp has been about as valuable of a piece as I thought he'd be going into his first year as a Hawkeye. Someone asked me before the season what I thought Iowa would get out of him and I said that I believed he'd averaged between 10-12 points and around 4-6 rebounds per game. So far, Wieskamp has nearly matched those predictions, but he's exceeded my expectations on the defensive side of the ball. He's had some miscues, but you could argue he's been one of Iowa's strongest defenders on the ball and he's been one of their better rebounders. It's obvious that he's going to have a very decorated career in the black and gold and he's been an incredible addition to what I felt was an underachieving team in 2017-18.
"[Joe] might blow a game open with his 3-point shot,"Fran McCaffery said. "It might be drives to the basket. Get and-ones, we post him up. He gives you tough baskets, but he also can move his feet laterally and defend. He rebounds. He rebounds in traffic. He has a keen understanding of time and score and what we need and what we don't need. He doesn't do anything crazy ever. So I think the thing with him is he's probably going to keep getting better because he's a worker and he's really smart. So it will be fun to watch."
Want more content like this? Take advantage of HawkeyeInsider.com's 5-for-1 VIP special going on NOW! Get the full rundown —> HERE! You must act now, though. Time is running out!
It's been a peaks and valleys type season with Iowa starting 0-3 in the conference before rattling off five straight. Now, they're riding a two-game losing streak heading into a showdown with #5 Michigan on Friday night. At 16-5 overall and 5-5 in the toughest league in America, I think it's safe to say the Hawkeyes are exceeding many people's realistic expectations of this team. They've collected some solid wins so far during the 2018-19 campaign and don't have a single bad loss on their resume.
It's understandable that a fanbase wants a win every time out. Who doesn't want to win every single game? Winning is fun. But winning every single game just isn't realistic and if I would've sat you down in late October and said that Iowa was going to be 16-5 overall and 5-5 in the Big Ten on January 29th, you would've taken it in a heartbeat. The Hawkeyes have also spent 9 of 12 weeks ranked inside the Associated Press' Top 25.
This is a good basketball team and one that is headed towards an NCAA Tournament bid.