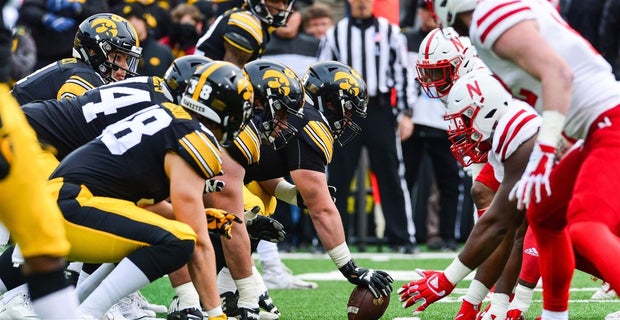 IOWA CITY, Iowa– The Huskers showed up to end a losing streak. It will have to wait another year as Iowa has now won four straight over Nebraska.
Here are some off-the-cuff takes from Iowa's 31-28 win on Friday at Kinnick Stadium, the second time Nebraska has been walked by a field goal this year. The takes start from the end of the game and work in reverse.
SECOND HALF
Well, Kirk Ferentz lived by the sword and died by it.
He faked a field goal that gave the Huskers life when they had little. It backfired in a big way. And he would have heard loads of criticism if that fourth-and-8 pass failed too.
I didn't expect Iowa to go for it on the Husker 37. If they miss, Martinez and crew are a few completions from a game-winning kick of their own. In fact, I thought Nate Stanley might pooch punt it all the way up until the snap. I wonder if Nebraska was lulled to sleep too. It ended up being an easy pitch and catch. Antonio Reed gave up too much room on the play. 
I think Ferentz felt if he didn't get the win there, Nebraska had all the mojo heading to OT. His gamble on one play paid off bi.
I felt a little robbed that I didn't get to see Adrian Martinez and that offense work one more series in overtime.
They had batted away the mistakes and put together one of their finest drives of the season, considering the circumstances, late in the fourth quarter. You saw Martinez bounce back from a big error and do it with his feet and his arm.
His scramble throw to Kade Warner on the two-point conversion to tie it, a throw against his body, was a thing of beauty. And Warner getting a foot down was just as impressive. Warner's going to be important for this team the next three years. He knows what he's doing, and he's reliable. 
I assumed we were going to see that offense take the field gain, and then Kirk got crazy and it worked out.
It looked terrible, then it looked promising, then Adrian Martinez made a throw he probably knew was a mistake the moment it left.
For as bad as it looked at times, the Huskers were 38 yards from a potential tying touchdown with 10 minutes left. They had Iowa a little off-kilter. Then Martinez forced a throw where about three Hawkeyes were waiting. It never had a chance to get completed … except to the other side.
We saw on Friday how quickly momentum can change from one side to another. But Nebraska had put themselves in such a hole that it had to be close to flawless in the fourth quarter. That was the big turnover the Huskers simply couldn't afford.
Iowa's O-line just got their horns out and showed the Huskers they need to get stronger in the trenches.
It's worth reminding this is a Hawkeye team that came into the game ranked 88th in the country running the ball. But yet they just drove the Huskers back player after play. By the end of the third quarter, Iowa had 204 yards rushing.
There weren't home-run plays. They were just consistent chunks – the kind that wear on a team physically and emotionally. It honestly looked like it could turn into something closer to last year at times. And then, well, football can surprise you.
Nebraska's special teams sure didn't help the cause.
The half started with Maurice Washington calling for a fair catch on the opening kick despite not being ready to catch it. So Nebraska got the ball on its own 7 to start. A 3-and-out followed. Then Iowa scored a touchdown and Nebraska's next kick return came with a holding call. Nebraska got the ball on its own 12 for that drive. Another 3-and-out followed.
Kirk Ferentz did the Huskers a small favor by faking a field goal.
I get wanting to go for the jugular, but his team was a chip shot field goal from going up three scores in a 28-13 game. The little shovel pass did not fool Luke Gifford who stopped the Hawkeyes a couple feet shy of the first down. 
It gave Nebraska team that seemed deflated a little pick-me-up.
Frost then got really bold, because he had no choice.
Facing a fourth-and-3 from his own 9, he faked a punt, running it with the upman Luke Gifford, who raced to the outside to get the first down by a yard and draw a flag. It got the Huskers out of the deep end for the first time in the second half and at least showed faint heartbeat heading to the fourth quarter.
Then the heartbeat would grow a little stronger.
The Huskers had to claw the whole way, but they converted four fourth-downs on that 98-yard drive to suddenly make it a one-score game early in the fourth quarter.
One was the fake punt. Another came on a hard-fought Adrian Martinez run. Then on a fourth-and-2 from The Iowa 39, Martinez found Morgan for an 11-yard play that looked like it might not work eventually. But Morgan ripped through the hole with some determination.
And then Martinez found Maurice Washington on a 28-yard touchdown a play later to make it a one-score game, bring more attention to Ferentz passing up on those three points.
A three-and-out by Nebraska's defense and momentum had suddenly shifted back in a game that felt like it might turn into a route in the third quarter.
The hole, though, had already been dug too deep.
FIRST HALF
Iowa's offense picked up where it left off against Nebraska by pushing the Huskers around, not wanting to share the ball with Adrian Martinez.
Often time of possession doesn't matter, but it does when the Hawkeyes hold the ball for 20 minutes, 49 seconds in the first half, with Nebraska having it for barely more than nine minutes.
The Husker offense was clicking well enough early. It just didn't get to play much. There was a point late in the first half when it appeared NU might have all of three possessions on offense by the time halftime came.
The Hawkeyes, as you all know, do not operate at a fast pace. They still ran 42 plays, wearing and wearing on that Husker defense.
Nebraska didn't have a good answer for Iowa's stretch play. Outside backer Tyrin Ferguson would come free from the backside but couldn't get to the back in time, because Hawkeye O-linemen had already cleared enough space for the Iowa backs to pound away for 5, 6, 7 yards.
Perhaps the most demoralizing drive of the season for Nebraska's defense was that 15 play, 85-yard march by the Hawkeyes for a touchdown that took more than 7 minutes off the clock. By the time Mekhi Sargent scampered untouched for a 15-yard touchdown, there were just 45 seconds left in the half for Nebraska's offense. 
The 4-fourth-3 conversion was large.
Nebraska had a chance to get off the field at the end of the half, and possibly even take the lead to the locker room. But Kirk Ferentz went for it on fourth down on Nebraska's 38. Iowa QB Nate Stanley was allowed way too easy of a throw for the conversion, finding Nick Easley for six yards. Appropriately named. Because it was easy pitch and catch.
Iowa was 4-of-6 on third downs, and 1-for-1 on fourth downs. 
The tone was set right off the bat on the first series, when Iowa won the toss and decided to take the ball, then converted a third-and-8 pass to tight end T.J. Hockenson who dragged a Husker down the sideline until he had 25 yards.
Nebraska's offense had the rhythm early, but wasn't allowed to keep it by the way the game evolved.
Aside from a bad misthrow to Jack Stoll on the first drive, Adrian Martinez and the offense was sharp off the bat, with a strong plan to use Maurice Washington on those swing passes that might have gone to a healthy JD Spielman. (Spielman was here, but obviously not close to full go and didn't play).
You saw Nebraska explosive plays from the start, with Stoll eventually getting a touchdown and Washington ripping off a 35-yard play on swing pass. Stanley Morgan caught three passes for 50 yards, setting a school record for career receiving yards along the way. It felt like it was working.
But when you don't get your fourth possession until there are 45 seconds left in the half, it's hard to get a flow and you certainly aren't tiring the other side out.
And as the half wore on, Nebraska's O-line had trouble keeping Martinez clean. One sequence was particularly painful for NU. After getting the ball back down 14-10, Devine Ozigbo ripped off a 20-yard run. The Huskers went to the pass on the next play. Incomplete. They went pass again on the next play and left tackle Brenden Jaimes got beat bad by Iowa's young, talented D-end A.J. Epenesa for a sack. Another sack came on the next play.
Those three rough plays for the Husker offense disrupted their good vibes and they would then stand on the sideline for the next 7 minutes, 16 seconds.
Props to Pickering.
True freshman kicker Barret Pickering's struggles seem long gone. His 46-yarder at the end of the half came against a wind, and he made it easy. It was his second chance after a 51-yarder had come up just short. But Iowa jumped offsides. Pickering took advantage.
You have some confidence when he steps out there now after last week. He surely does too. That is no small thing as you think ahead to 2019.
FINAL THOUGHT 
The last bite is the one always most remembered, so this one will is going to taste bad through December, and there were some things that happened in the trenches that show how much room the Huskers still have to travel.
It's 4-8 for two Nebraska seasons in a row.  This program is in a better place than it was a year ago. Much better. This program is fitting now. There are some exciting, young players. Adrian Martinez can be special. But the Huskers need to keep upgrading with recruiting and getting stronger. That last part can be repeated and repeated again. It's a big nine months ahead behind the scenes for Zach Duval and that crew.